Hey, I'm an IndieBound affiliate, so if you purchase books from the links on this site, you're not only supporting your favorite independent bookstore, you're supporting me, too!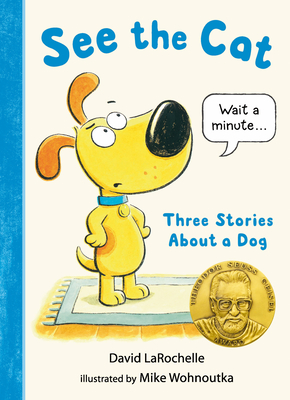 See the cat. Wait a minute. Is this a story about a cat? Our dog in the illustrations would disagree and he's understandably confused and indignant. This funny easy reader goes on from there with the narrator telling a story in very simple words (think Dick & Jane style writing) and the dog in the illustrations reacting and sometimes changing the text. Each story is funnier than the last as the dog (who is not a cat) deals with a surprise snake and protests the narrator demanding that he run and jump when he'd really rather just take a nap.
I can tell you that funny easy readers are in high, high demand. I have filled dozens of Grab Bags over the past few months for fans of Mo Willems and Elephant and Piggie. I am always looking for more funny easy reader options and this one definitely fits the bill. With text simple enough for new readers and tons of comedy coming through in the illustrations and the speech bubbles from the dog, this is a surefire hit for fans of
Elephant and Piggie
or
Chester
by Melanie Watt.