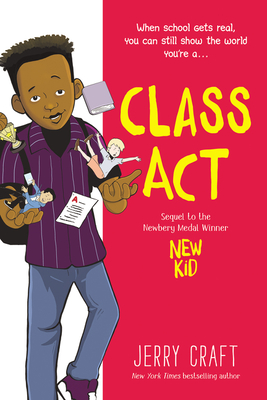 Class Act
by Jerry Craft. Grades 4-8. Quill Tree Books, 2020. 256 pages. Review copy provided by my local library.
It's here! It's here! And it's sooooo good! The highly-anticipated sequel to 2020 Newbery Medal winner
New Kid
is out now and friends, it's so good. It's a standalone sequel that focuses on Jordan's friend Drew, an African American boy who attends Riverdale Academy Day School on scholarship. Like
New Kid
, this is an excellent blend of heart and humor while addressing serious issues like racism, classism, and microaggressions. You don't have to have read
New Kid
to understand and enjoy this book, although there are a few minor plot points that might mean more if you've read the first book.
Drew's heard the saying that as an African American boy and a kid growing up poor that he'll have to work twice as hard to be just as good, but lately it feels like he's working way harder than that. As he begins his 8th grade year at RADS, he has to deal with a girl who has a crush on him and keeps filling his locker up with pies and cupcakes, an obnoxious classmate who gets a small taste of his own prejudice when he accidentally permanently dyes himself green for Halloween, and friends who seem to have everything Drew doesn't have (and why do they deserve swimming pools and housekeepers when Drew lives in a tiny apartment with his grandma?). But as he grows up, he's also starting to face some new realities, like the scary time a police officer pulls Jordan's dad over while he's driving the boys somewhere, and the comments his neighborhood friends make about his privileged friends from school.
This is, of course, a must-buy for all library shelves. Definitely hand it to fans of New Kid (which I looooved, by the way, and you can
read my 2019 review of it here
). I'd also hand it to fans of Big Nate or Diary of a Wimpy Kid. It's written in a really approachable way, making it a wonderful suggestion for families who are having conversations with their kids about race for the first time. Both books would make a wonderful family read to start some great conversations.
Hey, I'm an
IndieBound
affiliate, which means that if you purchase books through the links on this site, you're not only supporting your favorite independent bookstore, you're supporting me, too!