Hey, I'm an IndieBound affiliate, so if you buy books through the links on my site, you're not only supporting your favorite independent bookstore, you're supporting me, too!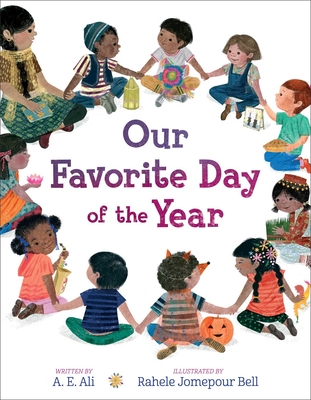 Our Favorite Day of the Year
by A. E. Ali, illustrated by Rahele Jomepour Bell. Ages 4-7. Salaam Reads, 2020. 40 pages. Review copy provided by my library.
It's the first day of school, Ms. Gupta's very favorite day of the year because it's the day she gets to meet all the kids in her new class and start getting to know them. And the first thing she wants to know is what each of their very favorite days of the year are so they can learn about them together as a class and get to know each other. In the story, we see the class learning about Eid al-Fitr, Rosh Hashanah, Las Posadas, and Pi Day. This is a fun, inclusive story that celebrates differences and the importance of coming together and learning from one another.
I especially appreciate the inclusion of a secular family in this book - something that's still very rare and much appreciated. Kevin's family celebrates science and Kevin's favorite day is Pi Day, celebrated on March 14 with baking pies and doing science activities together. They're not identified as any particular flavor of secular (and the text doesn't use the word "secular", just that they "celebrate science"), so atheist, agnostic, humanist, and other secular families will see themselves represented here.
This would make a great classroom readaloud for the first day of school or any time throughout the year.