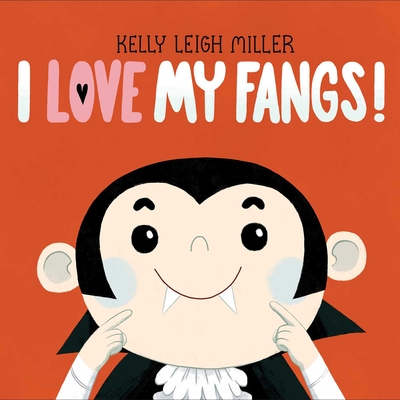 I Love My Fangs!
by Kelly Leigh Miller. Ages 4-6. Simon & Schuster, 2020. 40 pages. Review copy provided by my local library.
It's October 1! Time to delight in all things spooky! But if your tastes run to adorable and not scary, and especially if you have a young reader in your life who may be about to start losing some teeth, this is the book for you. Little Dracula loves his fangs and he takes really good care of them. He brushes them and flosses them, very proud of this family trait. But one day at lunch time, one of his fangs COMES LOOSE AND FALLS OUT. And then - THEN! - a tiny fairy visits and tries to steal it! What's a young vampire to do?
Luckily, Drac's parents explain that it's just the tooth fairy and that his lost fang was a baby fang that had to fall out so a new, bigger fang could grow in its place. This is a gently humorous story with cute, not scary, monster characters. I'd hand it to readers who already know about losing teeth - they'll feel very smart and grownup compared to Little Dracula.
And this could be Halloween adjacent - October might be the time you go hunting for vampire picture books - but it's definitely not a Halloween book. So the good news is that this one might still be on the shelf when your Halloween section or display is decimated. Whether you're looking for books about losing teeth or not-actually-scary books about monsters or something Halloween adjacent, this is the picture book that will fit the bill.