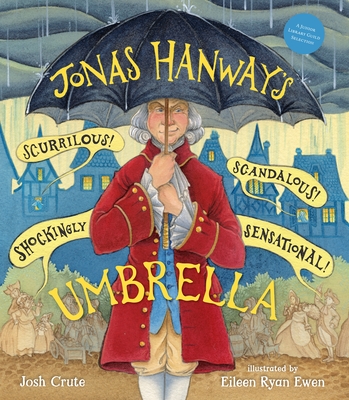 Okay, so did you know that it was once incredibly unfashionable in London to carry and use an umbrella? People just GOT WET. Or they paid for street coaches to drive them everywhere. Because you know something about London? It rains there. A lot.
To Jonas Hanway, that didn't make a whole lot of sense. And after he traveled to some distant lands and saw many people using umbrellas, he got back and said "To heck with fashion! I'm not getting wet anymore!" (He did not actually say that - I'm paraphrasing.) And he started using an umbrella, no matter how much he was stared at and mocked.
It seems completely ridiculous now - umbrellas are ubiquitous! - but that truly was the case once upon a time in London. Umbrellas were thought of as foreign and only used by poor people who couldn't afford to hire coaches. This is an intriguing and beautifully illustrated nonfiction book that will appeal to kids who enjoy learning weird facts about the world.
Back matter includes some notes about the issue of umbrellas and additional information about Jonas Hanway - another popular trend he eschewed was using young children as chimney sweeps, a practice that was finally outlawed in 1875. And it includes a timeline with a brief history of umbrellas for even more fun facts. Pull this one out on your next rainy day and learn all about this handy tool.
I would hand this to kids who enjoyed such books as
Pop!: The Invention of Bubble Gum
by Meghan McCarthy or
Ben Franklin's Big Spash
by Barb Rosenstock about fun inventions or interesting moments in history. The book has gorgeous, detailed illustrations with lots of funny little moments in the pictures, so it would make a great gift book for elementary age kids who enjoy trivia and fun facts.