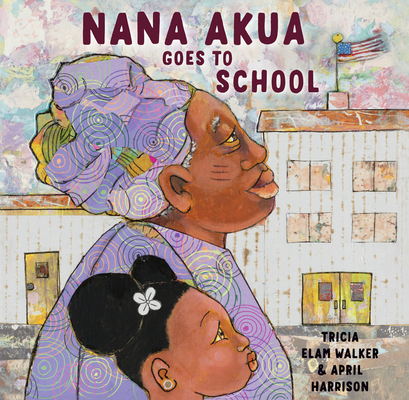 Nana Akua Goes to School by Tricia Elam Walker and April Harrison. Ages 5-9. Schwartz & Wade, 2020. 40 pages. Review copy provided by my local library.
When Bring Your Grandparents day approaches at school, Zura starts to get nervous. She loves her grandparents, who grew up in Ghana; they're her favorite people, but Zura's afraid that the kids at school won't understand her Nana Akua's tribal face tattoos. She's afraid the other kids might be afraid or laugh at her grandma. Luckily, Nana Akua has a plan and with the help of Zura's quilt featuring many tribal symbols and some gold face paint, Nana Akua turns the day into one that no one will forget.
This is a nice story about learning about different cultures and accepting differences that make us all special. It's a very reassuring story and may introduce a lot of young readers to the idea of tribal markings. I love the vibrant, textures artwork, especially the patterned material used for many of the fabrics in the book. This would make a wonderful classroom readaloud to introduce empathy and acceptance.