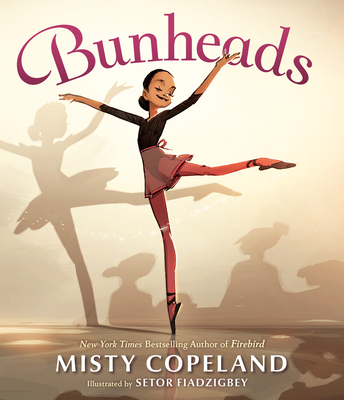 Bunheads
by Misty Copeland, illustrated by Setor Fiadzigbey. Ages 4-9. Putnam, 2020. 32 pages. Review copy provided by publisher.
Misty Copeland is back with another picture book about a classic ballet and a young, African American ballerina determined to shine. In this autobiographical story, young Misty attends her first ballet class and falls in love with the story of Coppélia when her teacher presents their upcoming show. There is plenty for young ballet students to appreciate here as Misty explains and demonstrates some of the steps she learns in her class as they prepare for the auditions. The steps are depicted in both the text and the illustrations, which will appeal to young dancers who may be learning these very steps themselves.
Throughout class and the audition process, young Misty bonds with another girl in her class, forming a fast friendship, and luckily they are both cast in the show. I don't know if you have as many Misty Copeland fans at your library as I do at mine, but I can tell you they were asking for her by name this summer. We have plenty of young children that look up to her and this is definitely a book I'm going to put on hold for them. Pick this one up for the young dancer in your life and make sure you have it on your library shelves. Representation matters and it's wonderful to see a book featuring a young African American ballerina.
Pair this book with
Goodnight, Little Dancer
by Jennifer Adams for more representation of African American children as dancers (that one gets a bonus for also including a male child dancer). And
A Dance Like Starlight: One Ballerina's Dream
by Kristy Dempsey, which is a picture book about an African American girl inspired by the first African American prima ballerina Janet Collins. And don't forget Misty Copeland's
Firebird
, for which Christopher Myers won the 2015 Coretta Scott King illustrator award.