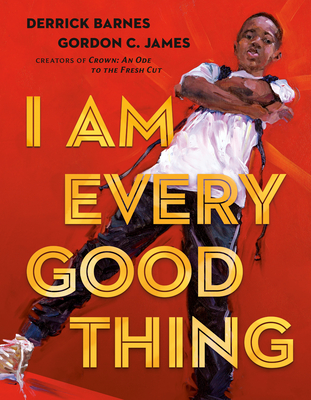 I am Every Good Thing
by Derrick Barnes, illustrated by Gordon C. James. Ages 4-10. Nancy Paulsen Books, 2020. 32 pages. Review copy provided by publisher.
This newest collaboration from the creators of the Newbery-honor-winning and Caldecott-honor-winning and Coretta Scott King-honor-winning book
Crown: Ode to the Fresh Cut
is everything I wanted it to be. It's a celebration of Black boy joy, an affirmation that begs to be read and shared and pressed into the hands of families everywhere. From the dedication of the book, which goes to some of the Black boys murdered by law enforcement, to the text and illustrations, this is a book that will make a difference. It depicts Black boys as superheroes, as scientists, as getting back up after a fall and trying again.
This is a book that celebrates Black boys in the way that all children deserve to be celebrated and that Black boys are not always celebrated. They are every good thing, just like all children, and this is a book that strives to show that in its ebullient text and its rich, colorful, joyful artwork.
This is a must-buy for library shelves. Display it proudly alongside
Hey Black Child
by Useni Eugene Perkins (illustrated by Bryan Collier) or
I Am Perfectly Designed
by Karamo Brown (illustrated by Anoosha Syed) for an empowering display.