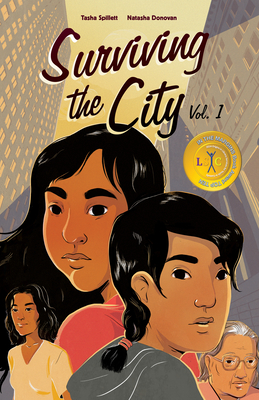 Surviving the City Vol. 1
by Tasha Spillett Sumner, illustrated by Natasha Donovan. Grades 8+ 56 pages. Highwater Press. Review copy provided by my local library.
Absolutely haunting, this graphic novel packs quite a punch in one slim volume. Best friends Miikwan (Anishinaabe) and Dez (Inninew) are so close that they share everything, even doing their berry fast together. Miikwan carries with her the grief of her missing mom and Dez is dealing with a social worker trying to take her away from living with her sick grandmother. Throughout the story, the spirits of missing women, girls, and two-spirit people walk among the living, as do the malevolent spirits of the white people (men) who would express violence against Native women.
It's truly haunting, more so because this is a real issue that many white people are not aware of. This graphic novel, an
American Indian Youth Literature Award
honor book, deserves a spot on your library shelves if you're serving teens or adults. The
second volume
is due out in October. Hand to readers interested in racial inequity, indigenous people's issues, and social justice.