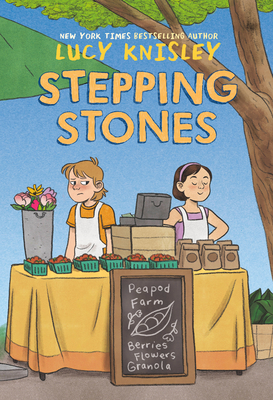 Stepping Stones
by Lucy Knisley. Grades 4-7. 224 pages. Random House Graphic, 2020. Review copy provided by my local library.
You may know Lucy Knisley from her adult graphic memoirs (which are also excellent),
Relish: My Life in the Kitchen
or
Kid Gloves: Nine Months of Careful Chaos
(which was a LibraryReads pick in February 2019). Or you may know her super cute picture book
You Are New
, which is a wonderful new baby gift and was on my 2019 gift list. And here is her middle grade graphic novel debut and I'm pleased to report that this is also a great book.
Lots of changes are happening for Jen. She's moving with her mom to a country farm and dealing with new weekend stepsisters. Life on Peapod Farm means new chores, new routines, and helping out with the weekend farmer's market. And although her mom's super happy being in nature, Jen would rather be inside reading comics. She knows that her mom's counting on her to get along with everyone, it's not easy when her new know-it-all stepsister seems to be perfect at everything and Jen feels like she never measures up.
This is a story about a girl finding her own strengths when she feels like she doesn't quite fit in, even within her own family. It's a story that will speak to many young readers, especially (but not limited to) kids in newly blended families. Hand this to fans of Raina Telgemeier's
Sisters
and Vera Brosgol's
Be Prepared
.