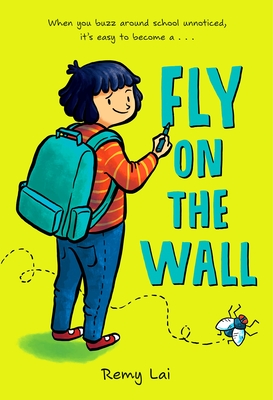 Fly on the Wall
by Remy Lai. Grades 4-7. 336 pages. Henry Holt, September 2020. Review copy provided by publisher.
Calling all Wimpy Kid fans! Remy Lai's latest highly illustrated novel is right up your alley! Henry is sick and tired of his family babying him. They are so overprotective that he can barely do anything without someone hovering over him. And this summer when his parents announce that the family has decided to forgo their annual visit to Henry's dad in Singapore, he takes matters into his own hands and concocts a plan to get to Singapore by himself.
Of course, plans do not always go... to plan... and Henry will learn a lot about himself on this journey. As readers follow Henry's hilarious misadventures, we also learn about his breakup with his best (and only) friend and about what led Henry to become The Fly on the Wall, an anonymous online troll who mocks the other kids and teachers at his school via a hurtful web comic.
I was a huge fan of Remy Lai's debut
Pie in the Sky
and it's a title that I press into the hands of all my Wimpy Kid fans who are looking for something else to read. When
Fly on the Wall
comes out, you can bet I will be pressing that one into hands, too. The book is written in journal format as Henry documents his journey in his trusty notebook. It's laugh-out-loud funny, but also a poignant story about a kid who feels out of place at school and struggles to make and keep friends. Hand this Australian import to fans of
Diary of a Wimpy Kid
or
Dork Diaries
.