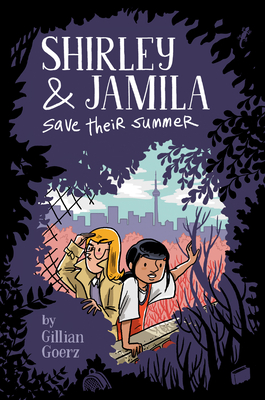 Jamila's pretty sure that her summer is ruined. Her mom wants to send her to camp, but all Jamila wants to do is shoot hoops. When Jamila meets Shirley at a neighborhood yard sale, the girls strike up a tentative friendship and convince both their mothers to let them hang out together this summer. Jamila will get all the time she wants at the b-ball court, she just has to hang out with Shirley, who is nice, even if she's a bit odd.
When a neighborhood kid shows up asking for Shirley's help in finding his missing pet gecko, Shirley is on the case and Jamila finds herself helping, too. But when Shirley starts taking the case too seriously and their new partnership hits a rough patch, Jamila's not sure that their new deal is working out.
Enola Holmes meets Shannon Hale in this graphic novel mystery that will please detective fans as well as fans of contemporary friendship stories. Shirley is a Sherlock-Holmes-ian detective and kids will enjoy looking for clues and learning about how she solves her cases. Middle grade readers will also relate to the girls' struggle to figure out a new friendship. I really enjoyed getting to know both characters and the realistic Toronto setting.