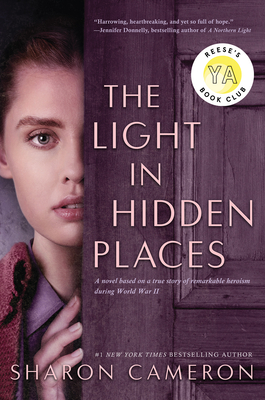 If someone needed your help, would you give it? Even if it could cost you your life? Stefania Podgórska was a teenager when she started hiding Jews in her tiny apartment in Poland during WWII. It started with a close friend and as more and more people needed her help, she ended up with 13 Jews hiding in her attic. It was a life or death situation for them and a life or death situation for Stefania - she would be shot by the Gestapo if anyone ever found out. She worked night and day to keep everyone fed and safe. And then the Nazis showed up at her door and commandeered her apartment. Two Nazi nurses who worked at the hospital across the street were moving in to her second bedroom. Stefania had no choice, she had to let them stay there. And she had to hope that they never discovered the 13 Jews living right above their heads.
This absorbing historical novel is based on a true story about a real woman and it was Reese Witherspoon's December YA book club pick. It is definitely a fascinating story and if you love historical fiction that you can really sink your teeth into, this is a great one to pick up. It takes place over a number of years during WWII as Stefania moves to the city from her family farm and starts working for a Jewish family running a shop. As the war moves in and her employers find themselves in increasing danger, Stefania has to grow up quick and make a lot of decisions about what she will do. The hook in this booktalk doesn't happen until about three quarters of the way through, but I was so interested and invested in Stefania's story that I found myself completely absorbed.
Author Sharon Cameron has done her research and includes a section at the end with photos of the real Stefania and information about what happened to her and her family after the war. This is a story about a little-known hero of WWII that needed to be told. It's teen, appropriate for middle school and up, and has a ton of adult crossover appeal. I added a short booktalk of this title to my Wowbrary email this week and it immediately got 5 new holds, even though it's not a new book.
Readalikes: