Let's face it, after this year we could all use something (anything!) that gives us a laugh. If you're shopping for kids who are fans of Mo Willems or who love to laugh (don't we all?), these are wonderful choices for your holiday giving. All of these are from 2020, but if you want even more funny book suggestions, check out the Laugh Out Loud Picture Books list I posted a number of weeks ago; any of those would make great fun gifts, too!

Baloney and Friends by Greg Pizzoli (Little, Brown, 2020). Fans of Elephant and Piggie will love this brand new easy reader graphic novel with three standalone stories featuring the gentle exploits of Baloney the pig and his friends.

The Best Worst Poet Ever by Lauren Stohler (Atheneum, 2020). There once was a Pug and a Cat who engaged in a poetic spat...
These two artists who share a work space don't get along at first, but as these competing poets duel with words, they realize that their feud is sparking some great work. Pug types a poem with his butt! Need I say more?!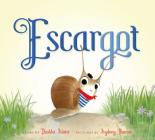 Escargot by Dashka Slater, illustrated by Sydney Hanson (Farrar, Straus, & Giroux, 2017). Escargot just wants two things: 1) to be your favorite animal and 2) to get to the delicious salad at the end of the book. Buy this one if you have a bad French accent in your readaloud repertoire and you may want to get the sequel (which just came out this year), A Book for Escargot, too.

Happy Narwhalidays by Ben Clanton (Tundra Books, 2020). I'm a huge fan of the Narwhal and Jelly books; this is another series that Elephant and Piggie fans will enjoy. This is the fifth book of their gentle, funny adventures and it's particularly suited to holiday giving, given its theme. Don't worry, this book can stand alone, but a box set of the first three Narwhal and Jelly books would also make a super great gift for Mo Willems fans.

See the Cat: Three Stories About a Dog by David LaRochelle, illustrated by Mike Wohnoutka (Candlewick, 2020). See the cat. Wait a minute. Max is definitely NOT a cat. Max is definitely a DOG. How can he get the narrator of the story to get it right?! Young readers will delight in this silly book whose narrator and main character aren't seeing eye to eye. This is another great one for Elephant & Piggie fans.

Smug Seagull by Maddie Frost (Little, Brown, 2020). Fans of Pigeon, take note! You'll want to get to know this arrogant seagull who prides himself on being the best lunch thief on the beach... until he meets a mischievous crab who seems to be his match... Read My Review

Time for Bed's Story by Monica Arnoldo (Kids Can Press, 2020). In this hilarious story,
Bed gets a chance to tell you their story. Because as much as you complain about bedtime, YOU are no picnic either. You kick, you drool, you put stickers (so many stickers) on everything. This wry picture book gives Bed a voice for once. The funny text paired with the hilariously expressive anthropomorphized bed makes for a really winning bedtime story, especially for kids who ask for five more minutes again and again.

What About Worms?! by Ryan Higgins (Hyperion, 2020).
This is a funny take on a facing-your-fears story as Tiger obsesses about his greatest fear: worms. And then worms discuss their greatest fear: tigers. If you've read all the Elephant & Piggie books, the Elephant & Piggie Love Reading spinoffs are a good bet and this is a great one to start with.
For the first 12 days of November, I'll be posting a list of children's books perfect for gift giving this holiday season. Check out the full list of lists here to see what's coming. All the lists link to IndieBound to make it easy for you to find an independent bookstore to buy from (and as an IndieBound affiliate, shopping through those links supports me, too!). Independent bookstores need our support more than ever this year, so please shop local if you can or if you don't have a local independent bookstore, please consider ordering online from my local indie
Carmichael's Bookstore
.