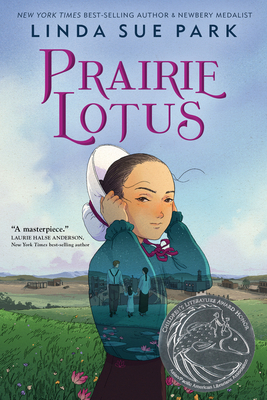 Prairie Lotus
by Linda Sue Park. Grades 4-8. Clarion Books, March 2020. 272 pages. Review copy provided by publisher. Pre-order today!
Booktalk:
Life on the frontier in Dakota Territory isn't easy for anyone, but for Hanna, who is half-Asian, it's even harder. Hanna dreams of being a dress designer and creating gorgeous dresses for sale in her father's shop, but first thing's first. Now that she and her father have settled in a new Dakota town, Hanna wants to go to school and complete her high school degree, just like she promised her mother before she died.
But Hanna has to be careful. She knows that many white people don't like living next to people who aren't white. She's determined to find a way to get the people in her new town to see past the surface. And she's determined to help her father's new dress goods shop succeed. She knows that if he gives her a chance to design one dress that she'll impress the town and get her dressmaking business off to a good start. But first she needs the people of LaForge - and her own father - to give her a chance.
This is a compelling historical read, perfect for readers who are interested in pioneer life and stories like Little House on the Prairie.
My thoughts:
Inspired by her own childhood love for the Little House on the Prairie books and the acknowledgement that they have problematic racial content, Linda Sue Park set out to write a reconciliation of sorts. This is a story that celebrates the frontier life of our country's earlier days while acknowledging the people that were displaced to make it happen and the racism that excluded non-whites from sharing the spoils.
In one of the very first scenes in the book, Hanna is approached by a group of Sioux women who offer her vegetables in exchange for sharing some of her meal with them. I think this book does a wonderful job of acknowledging the tension between Native nations and white colonizers while depicting the Sioux women that Hanna interacts with in a realistic and positive way.
It's wonderful to get a frontier story that's told through the eyes of a child of immigrants, as well. Hanna's father is white and her late mother was an immigrant from China. Now that she and her father are traveling to find a new place to settle, Hanna is the one experiencing the West as a non-white person, something her father thinks about in reference to her but doesn't have to deal with directly.
Throughout the book, Hanna encounters racism; many of these incidents were drawn directly from Linda Sue Park's own experiences growing up. Hanna is exhausted after a morning spent completely tense at her school desk wondering what her white classmates think of her. Hanna constantly second-guesses the meaning of her classmates' words and wonders if they would make such comments if she was white.
This is a must-have for library shelves, particularly where Laura Ingalls Wilder is popular. Make sure your staff know about it and have it ready to hand over alongside the popular Little House books.
Readalikes:
This is a super book to hand to fans of Little House on the Prairie to provide another perspective and a book that is better at navigating the complicated racial landscape of 1880s America.
Hattie Big Sky
by Kirby Larson (Delacorte, 2007) is another empowering story about a teen girl making her way in the American West. Set in 1917 Montana, Hattie inherits her uncle's homesteading claim and has a year to make a home for herself and prove the claim. Tween readers who enjoy spirited girls with big dreams living in the American West may enjoy both of these titles.
The Downstairs Girl
by Stacey Lee (Putnam, 2019) is another historical novel about an Asian American teen interested in fashion and trying to make a living for herself. Although
The Downstairs Girl
skews a little more teen, I think the content is still appropriate for a middle school audience and readers will enjoy both plucky heroines and root for them to make it.