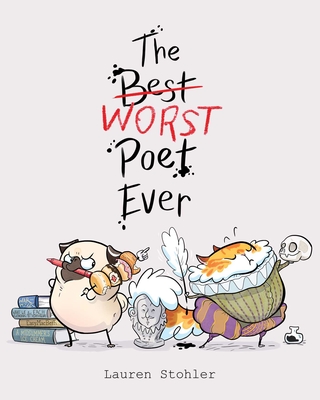 The Best Worst Poet Ever
by Lauren Stohler. Grades 2-5. Atheneum, 2020. 48 pages. Review copy provided by my local library.
Cat and Pug are both determined to become the best poet ever, but they each have very different approaches to their goals. These two artists who share a work space don't get along at first - Cat needs order and quiet; Pug needs snacks and the freedom to use his own process. But as these competing poets duel with words, they realize that their feud is sparking some great work. Imagine what a great poem they could write if they teamed up and worked together?!
Brimming with humor, in both the poems and the illustrations, this is a really fun introduction to poetry and the creative process. Read this with any class who has reservations about your poetry unit being boring. Pug types a poem with his butt! And the text includes many different types of poems - haiku and a dual voice poem, making it a tool for introducing different styles of poems. Hand this to fans of funny verse like Shel Silverstein, Jack Prelutsky, or Alan Katz.