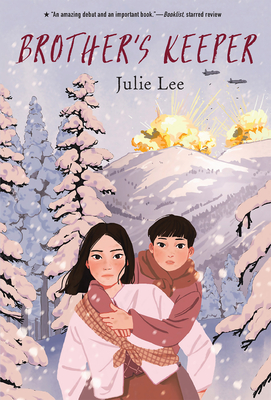 Brother's Keeper
by Julie Lee. Grades 4-7. Holiday House, 2020. 320 pages. Review audiobook provided by publisher via Libro.fm.
Life as the oldest sister is not easy for Sora in 1950 North Korea. Not only does her family already live by a set of ironclad rules set by the government - they can't leave their village, they can't speak their minds, they can't trust their neighbors - as a girl, Sora has to live by even more rules. She has to quit school to take care of her brothers and she must learn to keep house in preparation for being a wife one day. But everything changes when war is declared and her family decides to make a run for it. Early in their journey, Sora and her little brother Young are separated from their parents and they have to make this dangerous journey - hundreds of miles to the South Korean border - by themselves. Can they face hunger and exhaustion and the Red Army chasing them and make it to freedom?
This is a riveting survival story that will appeal to young readers who enjoy books like
Refugee
by Alan Gratz and
The Night Diary
by Veera Hiranandani. I am a huge historical fiction fan and I loved learning about Sora's struggles as a girl in a culture that venerates sons. As smart and strong as Sora is, her family still balks at sending her to school and letting her follow her own dreams. Sora is expected to set her own wishes aside to care for others (her brothers and eventually her husband and her own family). Sora's not perfect - she's impatient and careless sometimes - but she's definitely a heroine you can root for. And readers who love discovering history through story will really enjoy this tale.