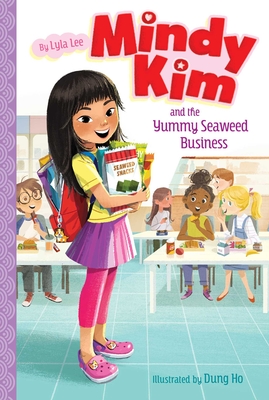 by Lyla Lee. Grades 1-3. 96 pages. Aladdin, 2020. Review copy provided by publisher.
Mindy Kim has just moved to Florida and is starting a new school for the first time in the series opener of this own-voices early chapter book series. In the first book, she's nervous about making friends, especially at a school that has no other Korean kids, and after a rough first day where the kids made fun of her Korean lunch, she's sure this is going to be the worst school year ever. But when the other kids get interested in her seaweed snacks, she's sure she has found the key to friendship and maybe a way to convince her dad to get her the puppy she's always wanted, too.
This is a really cute series that will appeal to readers who enjoy school stories and I love the details about Mindy's Korean heritage. It's got some meat to it, as well. Mindy's not only navigating a new school and a new state, but she's figuring out life without her mom who died before they moved to Florida. Now it's just her and her dad. The series isn't sad, but it does have some emotional scenes as Mindy and her dad celebrate their first Lunar New Year without her mom, train a new puppy, and Mindy runs for class president.