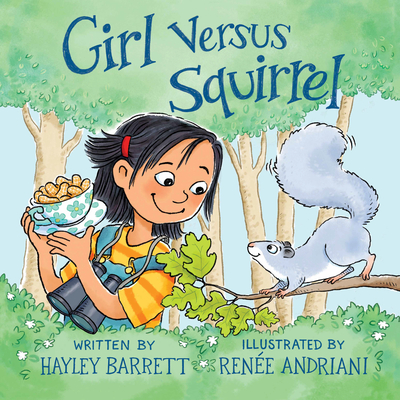 Girl Versus Squirrel
by Hayley Barrett, illustrated by Renée Andriani. Grades K-3rd. Holiday House, 2020. 32 pages. Review copy provided by my local library.
Pearl has put up bird feeders in her backyard - three different kinds. Suet went in the house-shaped one. Seeds went in the tube-shaped one. And peanuts went into the teacup. But imagine her surprise when a squirrel starts showing up and eating all the peanuts out of the feeder. Pearl is determined to figure out how to prevent the squirrel from eating all the peanuts she's putting out for the birds, but this squirrel is very wily and keeps getting the peanuts, no matter what Pearl tries.
This is a cute and funny picture book about a problem-solving girl who eventually learns to make peace with her nemesis squirrel once she understands a little more about squirrels. The book reminded me of nothing more than this YouTube video - it's 20 minutes long, but definitely worth the time.
It's a great story about problem solving and it includes a page of fun squirrel facts at the end of the book. This would be a great book to display or read aloud on January 21, National Squirrel Appreciation Day.