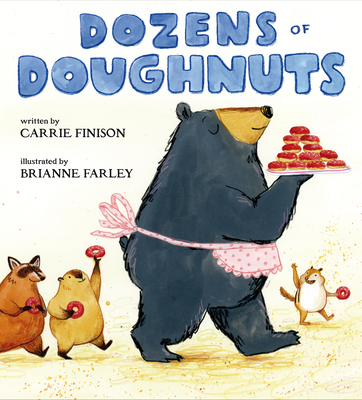 Dozens of Doughnuts
by Carrie Fenison, illustrated by Brianne Farley. Ages 3-7. Putnam, 2020. 40 pages. Review copy provided by my local library.
LouAnn the bear is getting ready for winter, which for her means she's baking dozens of doughnuts which she will eat herself to get ready to hibernate. She's just about to sit down to some fresh doughnuts when her doorbell rings and it's a friendly neighbor who has smelled the delicious treats. LouAnn kindly shares her doughnuts and heads back to the kitchen to whip up some more. But when neighbor after neighbor shows up looking to share in the feast, LouAnn has finally had enough! Luckily, her neighbors realize that they've eaten up all her doughnuts and come back to repay her kindness with treats of their own.
This is a super cute, playful story about sharing that feels mildly seasonal since it's a little bit about hibernation, but it could definitely be read any time of year. The rhyming text begs to be read aloud and this would make an excellent storytime book. It has a recurring chorus each time LouAnn's about to get to eat some of the doughnuts, in which LouAnn gets interrupted by the doorbell before it can get to her name in the rhyme:
One dozen doughnuts, hot from the pan.
Toasty, and tasty, and ALL for -
Ding dong!
The interruption adds humor to the story and you could really play that up in the readaloud.
Pair this fun animal story with
Bear Snores On
by Karma Wilson for another bouncy, rhyming picture book about forest creatures having a feast and leaving hibernating a bear out or
Thank You, Omu!
by Oge Mora for another tale about neighbors following their nose and popping in to share in a delicious meal.