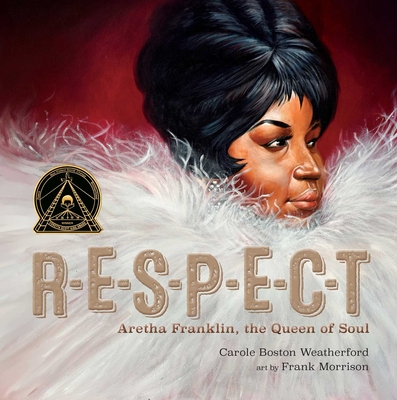 Y'all. Stop what you are doing and run to your local indie bookstore to get your hands on this book. It is absolutely stunning. Stun. Ning.
Carole Boston Weatherford is a poet, we know this. And she's outdone herself here. The text of this book is deceptively simple, each spread a rhyming couplet titled with a spelled out word, paying homage to one of Aretha Franklin's most well-known songs. It seems simple, but there's a lot of thought that's gone into the construction of this book. Each couplet is titled by a spelled-out word that ends in that "ee" sound like R-E-S-P-E-C-T. For example:
B-L-E-S-S-E-D
Cradled by the church, rocked by an ebony sea,
Aretha says a little prayer each night on bended knee
D-E-T-R-O-I-T
The Franklins move north from Memphis, Tennessee.
They put down roots and rise like a mighty tree.
Not all the words are seven letters long, like "respect", a feat that would have been a stretch to carry out throughout the book. They all end in that long E sound, so the text flows together like a song and continually brings the reader back to the powerful message of Aretha's famous song.
And the paintings. Oh, the paintings. Frank Morrison's oil paintings are rich and full of color and consistently play with perspective, sometimes taking a view from behind or above. I love the spread that talks about Detroit, picturing the Franklin family as part of a mighty tree and then later in the book after Aretha's mother has left the family, the same image is rendered with the family minus mom.
I am sure the Caldecott Committee is looking carefully at this book - it's one of my favorites of the year!