Hey, I'm an IndieBound affiliate, so if you buy books from the links on this site, not only are you supporting your favorite independent bookstore, you're supporting me, too!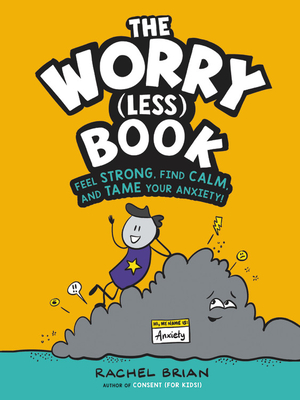 Oh, anxiety is high all over the place. I feel it, you feel it, and the kids in our lives feel it, too. And this great graphic novel is wonderful for helping kids navigate it. This is a must-have for your library shelves and anyone working with or living with anxious kids, you're going to want this on your personal shelves, as well.
It's super conversational and funny, while still providing some great information and tools that kids can use to deal with their own anxiety. Just like her book
Consent for Kids
, this is a book that kids will find fun to read, while it also gives them really good information. I love that this book normalizes anxiety, affirming that it's a normal emotion that everyone experiences sometimes, helps kids identify when anxiety is getting in the way of their life, and provides techniques for dealing with anxiety.
Although this book is definitely aimed at kids, I think it will have wide appeal and there are concepts that adults can use, too. I found myself snapping photos of pages to share with my husband, who tells me all the time to "stop worrying". The page that points out "You don't get to pick what you worry about, or when." is one I'm definitely going to show him. I love how this book boils down complicated concepts into simple wording that are easy to understand and make shareable sound bytes.
A must-read, for these times especially.