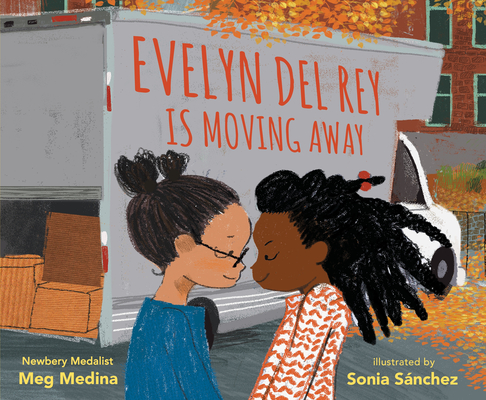 Evelyn Del Rey is Moving Away
by Meg Medina, illustrated by Sonia Sanchez. Grades K-4. Candlewick, 2020. 32 pages. Review copy provided by my local library.
This is a beautiful and moving portrait of a special friendship that's just about to change. Daniela's best friend, her mejor amiga, Evelyn Del Rey is moving away and today's the very last day that they will share matching apartments across the alley from each other. It's the last day in a while that they'll see each over, that they will play imaginary games and share stickers and greet all the residents of Evelyn's building together. But it doesn't mean their friendship is over. Although it's hard to be apart, Daniela and Evelyn will always be special to each other and they can keep in touch in other ways.
This rich, beautiful book celebrates best friends and honors the pain people feel when someone they're close to moves away and life changes. I love the gorgeous, rich paintings that illustrate this book, capturing a fall afternoon in the city with the leaves blazing in yellows and oranges. Fall feels like a nostalgic time, a time you might think back on the past and friends you've known, so it's definitely appropriate to this touching story.
This is a great book to share with kids who may be experiencing their own changes as a friend or loved one moves away or they face some other unwelcome but necessary change. It doesn't try to smooth over the pain that kids feel, it's not cutesy or saccharine, but it will be comforting to kids in its realness. Hand this to kids who need it and display it alongside books like
The Rabbit Listened
by Cori Doerrfeld or
The Happy Book
by Andy Rash, which honor kids feeling big feelings.