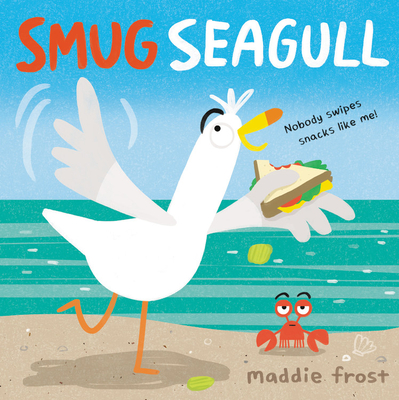 Smug Seagull
by Maddie Frost. Ages 4-8. Little, Brown, 2020. 40 pages. Review copy provided by my local library.
Seagull is an expert at swiping snacks on sunny days at the beach. He's the best - no one can beat him! Until a little crab shows up with a delectable french fry and, try as he might, the Smug Seagull is outsmarted at every turn. This delightful, laugh-out-loud picture book would make a really fun read for young beachgoers. The bright, cartoony illustrations make this a sure bet with young readers and they will delight in Seagull's mischievous escapades as he swipes all kinds of food from beachgoers young and old.
Seagull gives me some serious
Pigeon
vibes. He's a bird that oozes personality and confidence, delighting in the fact that his "name is in lights" (there's a sign posted asking beachgoers not to feed the seagulls). I think young Mo Willems fans are really going to like meeting Seagull, too. And any family who's visited the beach can probably relate to swarms of seagulls hoping to sneak away with some of the picnic.
Hand
Smug Seagull
to families about to head out on vacation or anyone who just needs a bit of a laugh. Although it's tailor-made for a beach or vacation themed display, kids love to giggle anytime.