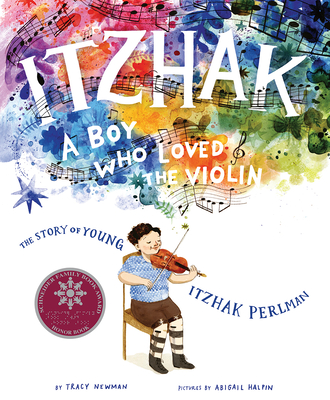 From the time he was a very young boy, music was important to Itzhak Perlman. Growing up in Israel, his family always had the radio on and Itzhak was drawn to the violin at a young age. Once Itzhak started playing the violin, he never stopped. A polio survivor, Itzhak played sitting down while most musical performers played standing up, but his music was more beautiful than many. After asking for an audition for the Israel Philharmonic at age 11 (they never wrote him back), he auditioned for the Ed Sullivan show, performed on the show to rave reviews, and was soon one of the most famous violinists in the world.
This is a gorgeous picture book, illustrated with bold, rich color that mirrors the color and personality that Perlman found in every piece he learned. The beauty of music really comes across in the artwork, which makes sense since illustrator Abigail Halpin is a violinist herself. Itzhak is depicted as a jolly, spirited child, facing all obstacles in his path with a determined smile. More than a celebration of music (although it is that, for sure), this picture book advocates for better disability access around the world. Walking with crutches and unable to climb stairs, Perlman was often forced to use freight elevators and stay in makeshift dressing rooms built on the fly as he toured music halls around the world.
This is a wonderful, tender portrait that's perfect for young musicians and performers. Young musicians will recognize the incredible amount of work that Itzhak put into his playing and appreciate the musical terms included in the text. Back matter includes author's and illustrator's notes, a timeline, and an extensive bibliography.