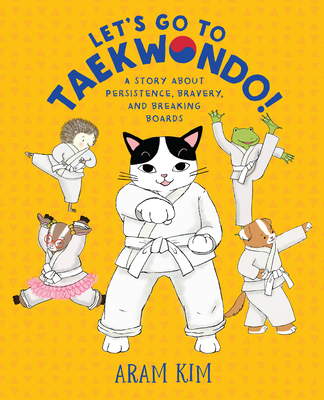 Yoomi loves learning taekwondo with Master Cho at her dojang with her brothers and friends. She learns about the five tenets of taekwondo: courtesy, integrity, perseverance, self-control, and indomitable spirit. And she works hard to improve her skills. But when it comes time to test for her yellow belt, Yoomi must break a board with her hand. Try as she might, she cannot break that board. Soon, Yoomi doesn't want to go to taekwondo anymore. Will Yoomi find a way to persevere or will she give up?
I love this sweet story about perseverance with it's wonderful intergenerational connection. Yoomi's grandmother is the one to take her to her taekwondo classes and when Yoomi thinks about quitting, her grandmother tells her that's okay. But just at that moment, Grandma feels like giving up on something, too. She's trying to call a friend in Korea over the computer and nothing she tries will work! Readers can see Grandma's growing frustration mirroring Yoomi's as they both try and fail to accomplish their goal. Finally, when Grandma's had enough, Yoomi steps in to encourage her grandmother and realizes that she'd better keep trying, too. This was a really nice, organic moment that teaches a lesson gently so that the story doesn't come across as didactic.
This would be a great pick for kids who study martial arts or any kids who are struggling with learning or doing something challenging. It's also a story that will appeal to grandparents looking for stories to share with grandchildren. And although characters are loveable anthropomorphic animals here, this is an own-voices story, written and illustrated by a Korean American author/illustrator. This is the second book about Yoomi's family and you can read more about them in
No Kimchi for Me
(Holiday House, 2017).