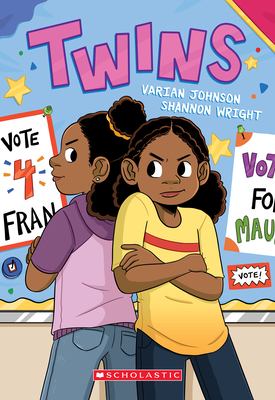 Twins
by Varian Johnson and Shannon Wright. Grades 3-6. Scholastic, 2020. 256 pages. Review copy provided by publisher.
Twins Maureen and Francine have always done everything together, but now they're starting middle school and they don't have one class together. Shy Maureen has trouble standing up for herself and making her voice heard and without her sister by her side, she's feeling lost as she navigates the all-new waters of sixth grade. Who will she eat lunch with? How will she survive Cadet Corp when she can't figure out the marching formations?
When Maureen discovers that Francine asked their parents to put them in separate classes and that her parents requested she be placed in Cadet Corp to help build her self-confidence, she feels betrayed by her entire family. In a fit of rage, she signs up to run against Francine for sixth grade president. At first she enters the race just because she feels angry, but as she works on her platform she begins to feel like she can make a difference at her school. But how can shy Maureen win against charismatic Francine? And does she have the strength to make her voice heard, even if it shakes?
I loved this relateable own-voices graphic novel and I think it has high appeal to readers of realistic contemporary comics. Call your fans of Raina Telgemeier or Terri Libenson because they're going to want to check this one out, too. Lots of kids have trouble adjusting to middle school, so readers who are going through their own friendship or self-confidence struggles will identify with Maureen's story.