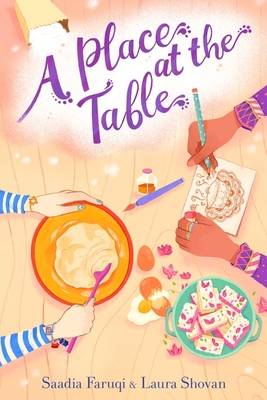 A Place at the Table
by Saadia Faruqi & Laura Shovan. Grades 4-7. Clarion Books, 2020. 336 pages. Review copy provided by publisher.
Calling all young chefs! This is a really sweet, contemporary story about two very different middle school girls who meet at an after-school cooking club and become friends due to their shared love of cooking.
Sara is new at school, having attended a local Muslim school up through fifth grade. She's not happy about switching schools and some of the kids are giving her a tough time because she's not white. She's not thrilled about having to tag along to the after school cooking classes her mom has started teaching, but there's nowhere else for her to go, so she sits in the back. But when fellow sixth grader Elizabeth needs a partner, Sara steps out from the shadows and joins her at her table.
Elizabeth is struggling at home. After the death of her grandmother in England, her mom has been really depressed and that means that a lot of stuff around the house - including cooking - is not getting done. So Elizabeth joined this cooking class, hoping to learn some recipes to help out at home. While some of the kids in the class object to the Pakistani food that Sara's mom is teaching them, Elizabeth loves it. And when she learns that Sara's mom is studying for the American citizenship test just like her own British mom, Elizabeth is inspired to match up their moms. Maybe having a study buddy will help her mom take the test seriously and making a friend might keep her from wanting to move back to England.
This book hits all the sweet spots in a realistic contemporary friendship story. It reminded me so much of the books I loved to read as a kid. It's mostly about the budding friendship between Sara and Elizabeth and how both of them grow as they get to know each other, but it tackles some tough topics like mental health and racism within the story. It's written with own-voices cultural details about both Sara's Pakistani-American household and Elizabeth's Jewish household. Both Sara and Elizabeth learn a lot from each other, not the least of which is to stand up for each other and what being an ally really means.
And since the book is set in a cooking class, of course it contains lots of yummy details about the recipes they learn to make and the experimentation the friends undertake to develop a fusion recipe for a contest. It definitely made me hungry while I was reading and I think kids who are into cooking and baking would really enjoy this aspect of the story.
Hand to young foodies who enjoy contemporary friendship stories.
Readalikes:

All Four Stars
by Tara Dairman (Penguin, 2014). Young foodies will enjoy both books about tween girls who are rock stars in the kitchen.

Save Me a Seat
by Sarah Weeks and Gita Varadarajan (Scholastic, 2016). This book, which is also told in alternating voices and written by own-voices authors, is about two culturally diverse boys who become unlikely friends when they're united against the same bully. Readers who enjoy stories about two very different kids finding common ground and becoming friends may like this one, too.