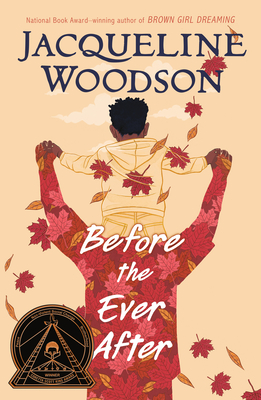 Before the Ever After
by Jacqueline Woodson. Grades 4-7. 176 pages. Nancy Paulsen Books, September 2020. Review copy provided by publisher.
ZJ's dad has always been his hero. In fact, he's been a lot of people's hero. ZJ's dad is a pro football star, playing on TV every week and well known to everyone ZJ knows. But lately, ZJ's dad hasn't been himself. His head hurts, sometimes so badly that he can't do anything else. He forgets things, including his own son sometimes. And he hasn't been able to play football, his very favorite thing, for awhile. ZJ copes by making music - composing songs that help him express his feelings - and by leaning on his best buds, boys who remember how ZJ's dad was before. Before his injuries started taking their toll. ZJ has hope that things will be okay one day, that there will be a happily ever after. But what's he supposed to do in the meantime, before the ever after?
This is a special book. And you know I say that having served on the Newbery Committee that awarded Jacqueline Woodson with a Newbery Honor for
Brown Girl Dreaming
. ZJ's story took me in and wouldn't let go. This is a poignant story, written in exquisite verse, about a family in flux, a family with plenty of questions and no answers. It's a story about the emotional lives of boys and about the relationships you build that are stronger than bad times. It's about the friends who will always be there no matter what and the way family comes together to help cope when disaster strikes. It's about memory and loss and hope and joy and grief, all wrapped up in one.
It's a story about all that, but it's also a story about football. Of course ZJ plays football, although now that his schoolmates are wanting to switch from touch to tackle, ZJ's not too sure about that. And it's a story about music and the power of music to soothe and express. There's a lot here, but never too much. A little something for everyone.
I'd hand this to younger fans of
The Crossover
by Kwame Alexander or
Ghost
by Jason Reynolds, readers who like a powerful story wrapped up in sports (comparisons I don't take lightly, since those are both beloved books to me!). I'd also try it on fans of Nikki Grimes's
Garvey's Choice
or Coe Booth's
Kinda Like Brothers
for readers who like stories about the emotional lives of boys.