Buying gifts for babies and toddlers this year? I've got suggestions for wonderful board books that your little ones will love. As the person who started regular baby storytimes at my library over 10 years ago, books for the littlest readers are near and dear to my heart. Now that my youngest niece is 2, my family is outgrowing these books, so I need you all to buy them for the babies in your life so I can live vicariously.

Antiracist Baby
by Ibram X. Kendi, illustrated by Ashley Lukashevsky (Kokila, 2020). This is the perfect gift for the socially conscious family on your gift list. I bought it for several of the white moms in my book club when it came out this summer. It gives concrete suggestions and easy wording for discussing race with very young children and will help parents raise antiracist children. This is a great book for any family, but may be especially important for white families who aren't used to ever talking about race and are wondering where to start.

Brown Sugar Babies
by Charles R. Smith, Jr. (Little, Brown, 2020). Babies love looking at photos of other babies and this beautiful book presents babies in a range of brown shades. Originally published in 2000, this was just re-released this year with a new cover. I love the rich language in this book and I super love that the marketing copy uses the phrase "carob cherubs". If your little one loves looking at faces, this is a great one to get.

Butts (Whose Is It?)
by Katrine Crow (Flowerpot Press, 2020). From baby faces to animal butts, this list has it all. This one I included because it was specifically called out as a patron favorite from my summer Grab Bag requests. If your kids like animals and/or laughing at the word "butt", this might be a hit in your family, too. And if Butts is not your thing, the same author has a whole series of photographic guessing game animal books to choose from. Consider:
Bellies
,
Coats
,
Ears
,
Feet
,
Horns
,
Noses
,
Scales
,
Tails
, and
Wings
. They're all perfect for little zoo-goers.

Construction Site (Hello World!)
by Jill McDonald (Doubleday, 2020). I'm a fan of the Hello, World! board book series and this new entry is sure to please young machine fans. I love these nonfiction board books for their bright, cheery illustrations and I think the way they're presented is perfect for a young audience. If construction is not your child's thing, check out other new books in this series:
Planet Earth
,
Rainforest Animals
, and
Reptiles
.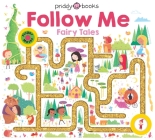 Follow Me Fairy Tales
by Roger Priddy (Priddy Books, 2020). This simple, large board book introduces very young children to common fairy tale characters in an interactive way with recessed finger mazes built into the pages. It's great for kids who enjoy interactive books and a fun way to practice fine motor control. While this title is perfect for young fairy tale fans, there are more books in the Maze Books series and you might also want to consider
Around the World
or
Follow Me Santa
.

Hand in Hand
by Alyssa Satin Capucilli, illustrated by Sheryl Murray (Little Simon, 2020). This super sweet book would make a great gift for new parents. It's written in very simple text with adorable watercolor illustrations that celebrate the bond between a parent and child. The New Books for Newborns series has a bunch of really sweet board books that would make great gifts for new parents. Consider
Merry Christmas Baby
or the
New Books for Newborns
collection, which contains 4 previous books from the series.

May We Have Enough to Share
by Richard Van Camp (Orca, 2019). I'm a huge fan of Richard Van Camp's darling board books pairing photos and illustrations of Indigenous families with affirming words that apply to every family. This latest is no exception and makes a perfect gift for new parents or anyone with a tiny baby to snuggle. This one in particular is one I'm buying for myself to read at our Thanksgiving table after our land acknowledgement.

My Favorite Color
by Aaron Becker (Candlewick, 2020). If you know Aaron Becker, you know his books are a visual delight. If you are new to Aaron Becker, you're in for a treat. Using transparent color cutaways, this beautiful book plays with color, overlaying different shades and tones to demonstrate just how many gorgeous colors there are. How could you possibly choose just one favorite? My brother is an artist and a designer and I'm buying this for his family this year. If you don't have it already, you'll also want to scoop up
You Are Light
and if you're buying for slightly older kids, his wordless Journey series are also amazing:
Journey
,
Quest
, and
Return
.

Storytelling Math series by Grace Lin (Charlesbridge, 2020)
This cute, bubbly board book series features one book for each season, each of which presents a math concept for a very young audience. I am a huge fan of Grace Lin and her joyful, colorful illustrations feature a diverse group of children in this series. And I think this is one of few series that actually presents STEM concepts at a level simple enough for very young children. Each book includes parent information in the back with questions and activities to spark further discussion about the topics. This might make a particularly great gift right now with many families homeschooling or working on NTI.
Every day for the next 12 days, I'll be posting a list of children's books perfect for gift giving this holiday season. Check out the full list of lists
here
to see what's coming. All the lists link to IndieBound to make it easy for you to find an independent bookstore to buy from (and as an IndieBound affiliate, shopping through those links supports me, too!). Independent bookstores need our support more than ever this year, so please shop local if you can or if you don't have a local independent bookstore, please consider ordering online from my local indie
Carmichael's Bookstore
.