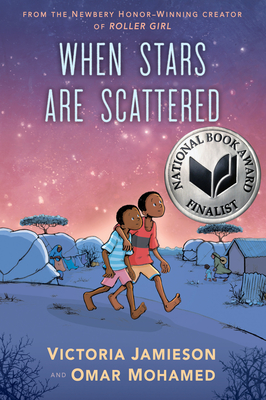 When Stars Are Scattered
by Victoria Jamieson and Omar Mohamed. Grades 4-8. (Dial Books, April 2020). 264 pages. Reviewed from ARC provided by publisher. This book comes out on April 14 - pre-order today!
Booktalk:

"What's your Plan B?"

The camp is supposed to be temporary. Most people at the Dadaab refugee camp in Kenya dream of moving somewhere else - to America or Canada to start new lives. But not Oman. All Omar wants is for the war in Somalia to be over so they can go home. To find their mom. To become a farmer like his dad was. To get back to their lives.

Now they've been at the camp for seven years and Omar is offered a spot at the school in the camp to get his education, but he doesn't see the point. He doesn't need a degree to be a farmer like his dad. And going to school would mean leaving his little brother for hours at a time. The two of them haven't been separated since they arrived together at the camp, separated from their mother who is still missing. Omar's not sure how Hassan would do without him and it's Omar's responsibility to take care of him. They might be the only family each other has left.

Why go to school when the war could end any day and he might go back home? If he could get back home, it would be worth the nights tossing and turning from bad dreams. It would make up for the days of empty bellies when their food ran out. He would be so happy to see his mother's smiling face again.

But what if that's never going to happen?

Attending school would mean leaving Hassan for just a few hours each day and then coming right back.

But then, their mother thought she was coming right back, too...

This is a true story about a kid growing up in a refugee camp. Refugee camps are supposed to be temporary, but with many refugees needing new homes, it's possible for people to spend a long time waiting in a camp. This riveting graphic novel memoir shares the day-to-day life of people living in a refugee camp and the unforgettable story of one man who grew up in a camp and went on to make life better for many refugees.
My thoughts:
Okay, I don't know why I'd never thought about this, and this sounds terrible, but it honestly never occurred to me that there are people living whole lives in refugee camps. This is a book that definitely opened my eyes and I think it's going to do that for a lot of readers. It's an incredibly moving story and so well done by Mohamed and Jamieson. It doesn't shy away from the terrible realities of being forced from your home and having to make do as you wait for better opportunities, but it presents it all with a kids-eye-view that makes it very accessible to young readers.

Omar's emotions come through so readily in the graphic novel format and I think that's a format choice that's going to capture the interest of a lot of readers. Reading this book, I put myself in Omar's place, missing his parents so much, feeling torn between taking care of his brother and pursuing opportunities to give them a better future, and the constant fear that those opportunities might never come. Omar sees adults who have given up on any hope of a different future. The process of being granted asylum in another country is cumbersome and selective and some people are just never chosen.

This is an inspirational story written with a lot of heart and I loved getting to know these characters. This is a book that's going to put this issue at the forefront of a lot of minds and it's definitely one to know about and to purchase for your library shelves.
Readalikes:
The Red Pencil
by Andrea Davis Pinkney. Little, Brown, 2014. While
The Red Pencil
is a novel in verse and
When Stars Are Scattered
is a graphic novel, both portray child refugees in Africa with an immediacy that doesn't shy away from horrific events but makes them accessible to young readers. Both stories are ultimately hopeful.