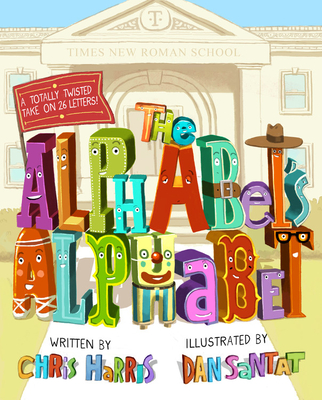 The Alphabet's Alphabet
by Chris Harris, illustrated by Dan Santat. Ages 5-8. Little, Brown Books for Young Readers, 2020. Review copy provided by my local library.
This is not your toddler's alphabet book. Designed for an older set who are already familiar and comfortable with letter shapes, this book plays with how letters can look like other letters, imagining creative ways to connect them. In rhyming text, the book goes through every letter of the alphabet, explaining how it's related to another letter. Dan Santat's bright, expressive artwork really brings this book to life and makes it so much fun.
Most of these connections are super clever and readers could easily imagine them even without the illustrations to guide them "A B is a D with its belt on too tight" Some depend more heavily on the illustrations, like "An R is a K with a mask where its face is", which shows a K wrestler wearing a luchador mask that covers the top part of its "head". Overall, this book is really great fun and kids will enjoy puzzling out the shapes of each of the letters and then coming up with their own ideas for connecting different letters. While I think kids already comfortable with letters will get the most out of this book on their own, it might be fun to read it with younger children and help them see the different letter shapes in the illustrations.
I would hand this to elementary age picture book readers who enjoy other books that play around with letters like E-Mergency by Tom Lichtenheld, Al Pha's Bet by Amy Kraus Rosenthal or Every Little Letter by Deborah Underwood.